Julian Rowe-Jones FRCS (ORL)
Consultant Facial Plastic Surgeon
Julian Rowe-Jones is a world-renowned specialist in cosmetic and functional nasal surgery with over 20 years' experience as a Consultant Surgeon.
As an internationally recognised authority he has performed more than 2,500 rhinoplasty procedures, both primary operations and secondary operations when patients have had multiple surgeries elsewhere.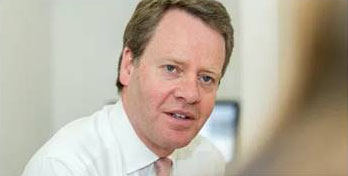 He is double board certified in both ENT and Head & Neck Surgery by the Specialist Training Authority of the Medical Royal Colleges of the UK and in Facial Plastic Surgery by the International & European Boards for Certification in Facial Plastic and Reconstructive Surgery.

He has served on the International Board for Certification in Facial Plastic and Reconstructive Surgery. He is a pioneer in the field of cosmetic and functional rhinoplasty and is a contributing pioneer in the development of piezo surgery and ultrasound sculpture techniques in rhinoplasty with over 200 cases completed.

Julian has authored over 60 papers on nasal surgery and rhinoplasty which have been published in peer reviewed surgical journals and has authored 11 chapters on rhinoplasty in facial plastic surgery textbooks.

He has given over 250 talks at national and international scientific surgical meetings and has lectured at the leading international rhinoplasty and facial plastic surgery symposiums in the UK, Europe, South America and the USA. He has been invited to perform live, televised rhinoplasty to major audiences at prestigious international conferences.

He is an examiner for the European Board for Certification in Facial Plastic and Reconstructive Surgery. He is also a surgical trainer for the UK government funded Cosmetic Training Interface Group surgery fellowship programme.
If you are considering a nose job or have any questions regarding the rhinoplasty procedure then get in touch with us on: 020 7118 3553 for our Harley Street clinic, or 01483 573 850 for our Guildford clinic.
I had surgery with Mr. Rowe-Jones 6 months ago and cannot praise him and his team enough for the outstanding care and continued support that I have received
I felt at ease immediately with Mr. Rowe-Jones. He prioritises the physical and emotional well-being of his patients and he always 'listens' to his patients' concerns and worries
I am so pleased with the result
I feel happy with who I am, and it's so great not worrying what angle people look at me from
FREE
Guide to Cosmetic Rhinoplasty
Find out more with our Guide to Cosmetic Rhinoplasty, written by Julian Rowe-Jones.