27th November 2012
The MyRhinoplasty London 2012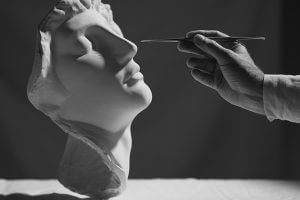 The MyRhinoplasty London 2012 meeting was held at the Royal College of Surgeons of England in London from Wednesday 7th November to Friday 9th November.  The faculty was comprised of Plastic Surgeons, Facial Plastic/ ENT Surgeons and Maxillo Facial Surgeons.  It was a pleasure for me to be Chairman and organiser of the meeting together with my consultant Maxillo Facial Colleague Mehmet Manisali.
We had a distinguished faculty of Peter Adamson, Fazil Apaydin, Tony Bull, Jay Calvert, Alex Clarke, Simon Van Eeden, Holger Gassner, Ian MacKay, Farhad Naini, Stephen Perkins, Regan Thomas, Abbad Toma and Antonio Souza Vieira.
Many Rhinoplasty meetings now have an exuberant extravaganza of speakers covering a multitude of techniques.  We felt that even in 3 days we couldn't cover the whole of Rhinoplasty and therefore we concentrated on the lateral profile.  This was an attempt to ensure that delegates took home clear messages of practical value related to clearly defined clinical problems.  We covered the full range from basic to complex techniques, from hump reduction to complex saddle nose and short nose reconstruction.  We used day one to concentrate on the fundamentals of Rhinoplasty so that an accurate knowledge base was able to inform sophisticated concepts on day two.
We included multiple panel sessions too to expand on case studies related to the preceding didactic lectures.  We also wanted to cover areas of controversy and to highlight difficult areas to aid all surgeons at all levels of experience in appropriate case selection.
We were delighted with the feedback and in particular one comment reflecting on the course from a delegate stated that he now felt that the mystique had lifted so I'm delighted we were able to provide clarity as well as future capability.
We are hugely looking forward to MyRhinoplasty London 2014 which will have as its focus The Frontal View.